The Latest
It's been a busy week. The latest posts:
Coming Attractions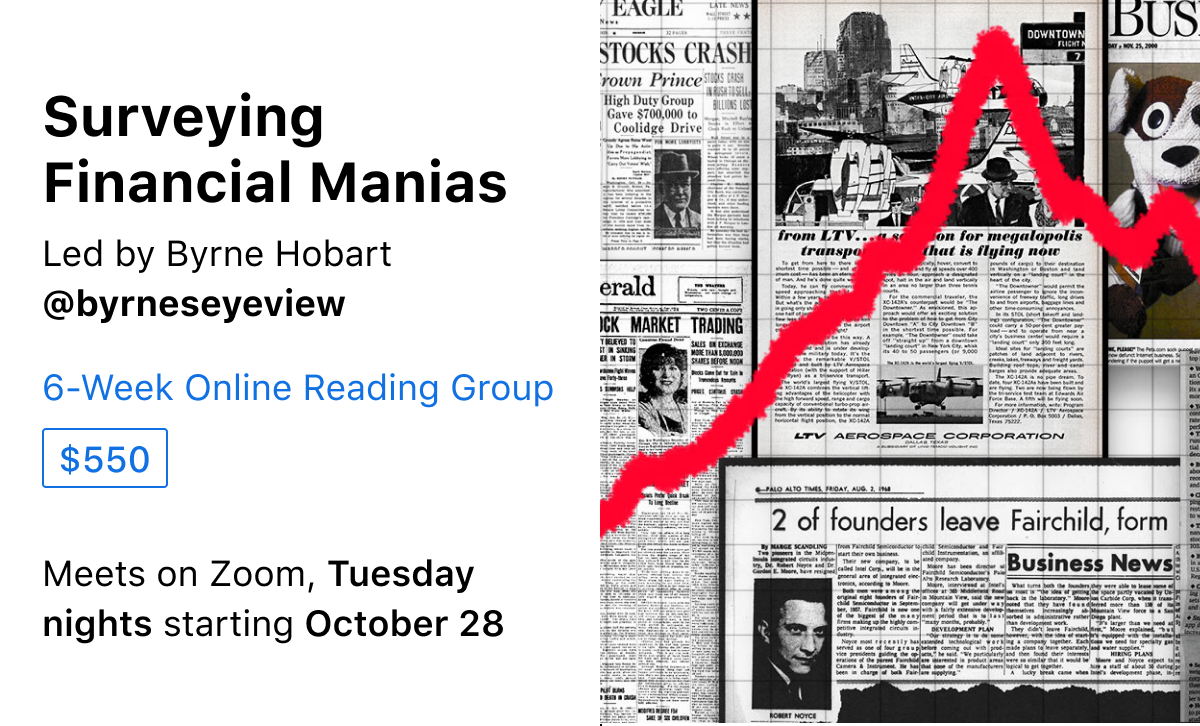 On Tuesday Oct. 29th I'm going to be hosting the first of six sessions of an online reading group about financial bubbles. Over the summer, I co-wrote an extended paper on applying René Girard's mimetic theories to bubbles, and this course builds on that paper. We'll be doing weekly meetings through Zoom, so you can join from anywhere. Course readings range from 1840s railway bubble fan-fiction to Bitcoin forum flamewars, with detours through the 1920s, the 60s conglomerate bubble, and more. The readings and discussions should be fun, and you'll walk away after 6 weeks with a good understanding of different bubbles through history and a nuanced theoretical framework for understanding them.
There are 15 total spots available in the group, and we have a couple early bird discount spots for readers ($100 off). Use the discount link below to enroll.
If you can't afford that but are still interested, there are limited scholarship spots available as well. Email info@otherinter.net with details about your interest and financial situation.
Meanwhile
A few weeks ago, my wife and I hosted the inaugural New York Progress Studies meetup. It was a lively discussion, featuring Alexey Guzey's compelling argument that life sciences are not experiencing a Great Stagnation after all. Reply if you're interested in attending the next one.
Programming Note
As of this issue, I've switched newsletter providers from Mailchimp to Substack. I signed up for Mailchimp in 2011, when it was the best free newsletter product available. It's still good—about as good as it was then—but not quite right for what I'm doing. Meanwhile, Substack is cool, and easy to use.
I'll always cherish my Mailchimp t-shirt, at least until it disintegrates.