Longreads
Books
Full Faith and Credit is a nice Washington memoir from William Seidman, who chaired the FDIC during the 1980s S&L crisis. Seidman has a great sense of humor about how the system works (as in many other cases, you'll get an honest look at some games people play from someone who didn't especially enjoy playing them). The book is a good reminder that bureaucracies work the way they do because they're subject to so many constraints. Sometimes the obviously correct policy doesn't get implemented because there are non-obvious institutional forces pushing against it.
Open Thread
Drop in any links or comments of interest to Diff readers.
The share of Diff content that directly or indirectly references AI has been rising fast. Extrapolate a few months, and 200% of the newsletter will cover the latest advances in artificial intelligence. If there's a trend like this that affects many people in many different ways, what's the optimal approach to allocating time and attention? Spend more and more of your time on AI, so you stay on the bleeding edge? Or try to focus as much as possible on things that AI will have a smaller effect on, since many improvements will be winner-take-all but will be complements to less automatable work? (Readers may recall this post on engineering effectiveness, which can now be applied to non-engineers.
A Word From Our Sponsors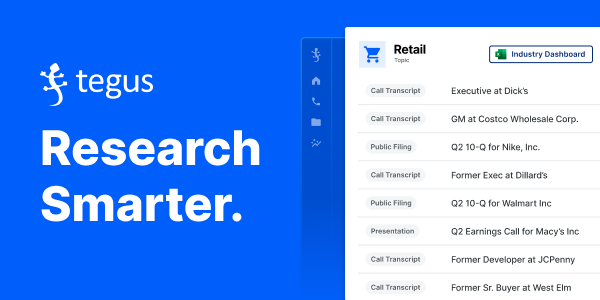 Elevate your investment research with Tegus
Designed to keep you ahead of the curve, our research platform empowers you to source new opportunities, map markets, and pressure test your investment theses at a fraction of the cost of other tools.

What sets us apart?
With custom-sourced expert calls at an average of $300 per call and the flexibility to customize call lengths, deep private company data that spans seed stage to mature companies and robust benchmarking, charing and comps, Tegus delivers the competitive edge you need to make informed decisions with confidence.
Trial Tegus today for free and experience the power of streamlined investment research.
Diff Jobs
Companies in the Diff network are actively looking for talent. A sampling of current open roles:
A company using Web3 to decentralize customer loyalty programs is looking for a founding senior engineer with Solidity experience and an interest in brands and the arts. (Brooklyn)
A firm using NLP and other ML tools to give retail and institutional investors access to custom-tailored portfolios is looking for a data engineer. (NYC)
A profitable AI startup is looking for a product designer for its new services that help small companies accelerate their growth. (SF)
A VC firm using data science and ML to source and evaluate opportunities is looking for a software engineer to lead their data engineering efforts. (Menlo Park, CA or NYC)
A company building ML-powered tools to accelerate developer productivity is looking for software engineers. (Washington DC area)
Even if you don't see an exact match for your skills and interests right now, we're happy to talk early so we can let you know if a good opportunity comes up.
If you're at a company that's looking for talent, we should talk! Diff Jobs works with companies across fintech, hard tech, consumer software, enterprise software, and other areas—any company where finding unusually effective people is a top priority.